TIOGA DOWNS GENERAL STORES
ANTIQUE & GENERAL MARKETPLACE

WE ARE CLOSED FOR THE WINTER SEASON UNTIL APRIL 4TH, 2015

COME BUY!
COME SELL!
TIOGA DOWNS ANTIQUE & GENERAL MARKET PLACE IS OPEN
FRIDAYS NOON TO 6 pm &
EVERY SATURDAY & SUNDAY, May thru Oct
9 am - 5 pm
at TIOGA DOWNS
2384 B West River Road, Nichols, NY 13812
WE
RE-OPEN
SAT.
APRIL
4TH
2015!





TIOGA DOWNS ANTIQUE & GENERAL MARKETPLACE IS CLOSED FOR THE SEASON UNTIL APRIL 4TH!

CALL FRAN 607-239-8353




COME SHOP! COME SELL!

MANY NEW VENDORS!!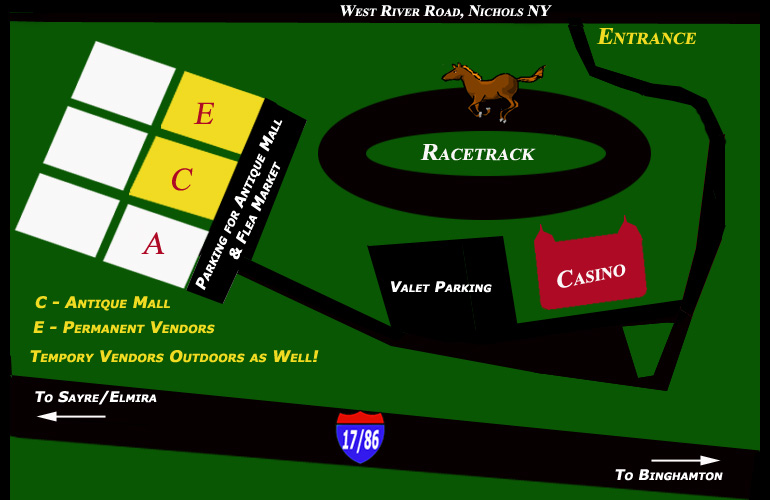 TIOGA DOWNS GENERAL STORES ANTIQUE MALL & FLEA MARKET
TWO FULL BARNS!
36,000 SQ. FT OF INSIDE SHOPPING
WITH SOMETHING FOR EVERYONE!!!
LOCATED NEAR BINGHAMTON,
ELMIRA AND ITHACA, NY
Inside spaces measuring 10' x 12' are available month-to-month in the Antiques / Collectibles Mall BARN C for $125.00 per month.


INSIDE SPACES FOR VENDORS OF ALL TYPES NOW AVAILABLE IN BARN E. $100.00 / month, on a month to month basis. Measuring 10' X 12'. Vendors need a NYSE Tax Certificate of Authority to collect taxes. No used appliances, exercise equipment or used clothing. Restrictions on food -- please inquire.
Outside FLEA MARKET spaces measuring 14' x 20' are available for $10/ day. Outside venders need their own NYSE Tax Certificate of Authority and need to provide a copy to the flea market management.

COME ANY TIME -- NO RESERVATION REQUIRED
SET UP FOR OUTSIDE FLEA MARKET BETWEEN 7 AM AND 9 AM.


APPLY ONLINE FOR NYSE TAX CERTIFICATE OF AUTHORITY
Sorry, New York State will not allow me to link directly to the document -- you have to fill out their business info before the Certificate of Authority comes up. Wish I could make it simpler for you all.





DID YOU REMEMBER TO RELOAD?
TOP